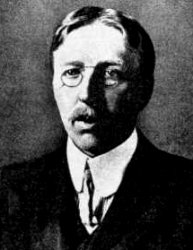 The writer now known as Ford Madox Ford was born Ford Madox Hueffer on December 17th, 1873. A prolific novelist, poet, critic, and editor, and reminiscer Ford was brought up in London, the grandson of Ford Madox Brown, a painter closely associated with the Pre-Raphaelites.
At the turn of the century Ford lived on the Romney Marsh, where he befriended Henry James and Stephen Crane, and began a ten-year collaboration with Joseph Conrad. In the years before the First World War he moved to London, where he founded the English Review, and brought together many of the best established writers of the day, including Henry James, Thomas Hardy, Joseph Conrad, H. G. Wells, and Arnold Bennett, along with new writers who had caught his attention. Many of the new writers he published would go on to redefine modern literature. His major work of the Edwardian period includes the Fifth Queen trilogy of historical novels about Henry VIII and Katharine Howard (1906-08); a trilogy of impressionist books about England and the English (1905-07); and the novels A Call (1910) and Ford?s best-known novel The Good Soldier (1915). During the war he wrote propaganda, but in 1915 he enlisted and served in France from 1916-17.
After the war, Ford lived mostly in France during the 1920s, first in Provence, and then in Paris. He published his other major fictional work, a series of four novels known as Parade's End, between 1924 and 1928. These were particularly well-received in America, where Ford spent much of his time from the later 1920s to his death in 1939.