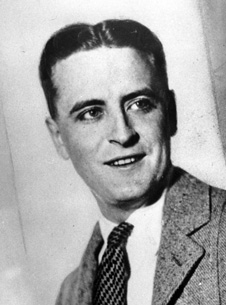 Francis Scott Key Fitzgerald was born in St. Paul, Minnesota, on September 24, 1896, the son of Edward and Mary "Mollie" McQuillan Fitzgerald. His father was from Maryland; his mother was the daughter of an Irish immigrant who prospered as a wholesale grocer, and was distantly related to national anthem composer Francis Scott Key.
In 1898, Edward Fitzgerald's St. Paul wicker furniture business failed and the family moved to upstate New York. Edward's tenure there as a Procter & Gamble salesman was also unsuccessful, and in 1908, when Scott was 12, the family returned to St. Paul, where they would live comfortably off the McQuillan fortune. Scott attended the St. Paul Academy, writing several plays and staging them with classmates, then, from 1911-1913, attended a Catholic prep school in New Jersey. Entering Princeton as a member of the Class of 1917, Fitzgerald spent little time on his studies, instead writing scripts and lyrics for Princeton Triangle Club musicals and contributing to the Princeton Tiger humor magazine. As the U.S. prepared to enter World War I, Fitzgerald underwent officer training at Princeton and in 1917 left without a degree to join the Army.
In the summer of 1918, while stationed at Camp Sheridan near Montgomery, Alabama, Scott fell in love with Zelda Sayre, a celebrated belle and the youngest daughter of an Alabama Supreme Court judge. Despite fierce competition for Zelda's affection from many other Army officers, Scott won out and the two became engaged. The war ended just before he was to be sent overseas. In 1919, he moved to New York City to seek his fortune, but found work in advertising unrewarding. Unwilling to wait for Scott to succeed in the business, Zelda broke their engagement. Scott returned to St. Paul, where he wrote his first novel, This Side of Paradise. Its publication on March 26, 1920, made him rich and famous almost overnight; a week later, he and Zelda were married and quickly became known for a wild, extravagant, celebrity lifestyle.
In 1921, Scott wrote his second novel, The Beautiful and Damned. When Zelda became pregnant, the couple took their first trip to Europe, and then settled in St. Paul for the birth of their only child, Frances Scott (Scottie) Fitzgerald, who was born in October 1921.
The Fitzgeralds moved to Great Neck, Long Island, in the fall of 1922 to be near Broadway for the anticipated success of Scott's play The Vegetable. The play failed. New York distracted Scott from writing; he drank heavily. He and Zelda clashed frequently, typically when both had been drinking. In 1924, the Fitzgeralds moved to France. Scott wrote The Great Gatsby during the summer and fall while living in Valescure near St. Raphael. They spent the winter of 1924-25 in Rome, where Scott revised the work. The novel was published in April 1925, receiving good reviews but selling poorly.
The next few years were not productive ones for Scott. The Fitzgeralds lived in Delaware and France intermittently, almost always spending more money than he earned. Zelda became obsessed with ballet, damaging her health and further distancing the couple. Scott's drinking became heavier. In April 1930, Zelda suffered her first mental breakdown. She was treated in Switzerland while Scott lived in Swiss hotels, writing short stories to pay for her treatment. In the fall of 1931, the couple returned to America, renting a house in Montgomery, Alabama. Zelda suffered another breakdown the following spring; she would spend the rest of her life in and out of sanitariums.
Scott's fourth novel, Tender is the Night, was published in 1934. It did not sell well, and reviews were mixed. His despair, his drinking, and his financial situation were all becoming worse. He lived for some time in hotels near Asheville, North Carolina, near where Zelda was hospitalized, and wrote an autobiographical essay called "The Crack-Up." In 1937, he went to Hollywood to try his hand at screenwriting for Metro-Goldwyn-Mayer. Earning a handsome paycheck, he was finally able to pay off his debts, but still was unable to save money. After MGM let him go at the end of 1938, he worked on freelance scripts and short stories and maintained a relationship with Hollywood columnist Sheilah Graham. He began work on another novel, The Last Tycoon, but had only finished six chapters when he suffered a heart attack and died on December 21, 1940, at the age of 44. Zelda Fitzgerald perished in a fire at Highland Hospital in Asheville in 1948.
At the time of his death, Fitzgerald's books were almost impossible to find; he died believing himself to be a failure. A revival of interest in his work was spurred by the 1945 release of The Portable F. Scott Fitzgerald, compiled by his friend Dorothy Parker, which included The Great Gatsby, Tender is the Night and some of his short stories. By 1960, his place as one of America's enduring writers was secure, with The Great Gatsby being recognized as his masterpiece.