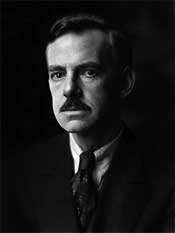 Eugene Gladstone O'Neill (1888-1953) was an Irish American playwright and Nobel laureate in Literature. His poetically titled plays were among the first to introduce into American drama techniques of realism earlier associated with Russian playwright Anton Chekhov, Norwegian playwright Henrik Ibsen, and Swedish playwright August Strindberg. His plays were among the first to include speeches in American vernacular and involve characters on the fringes of society, where they struggle to maintain their hopes and aspirations, but ultimately slide into disillusionment and despair. O'Neill wrote only one well-known comedy (Ah, Wilderness!).Nearly all of his other plays involve some degree of tragedy and personal pessimism.
O'Neill was born into the theatre. His father, James O'Neill, was a successful touring actor in the last quarter of the 19th century whose most famous role was that of the Count of Monte Cristo in a stage adaptation of the Alexandre Dumas père novel. His mother, Ella, accompanied her husband back and forth across the country, settling down only briefly for the birth of her first son, James, Jr., and of Eugene.
O'Neill, who was born in a hotel, spent his early childhood in hotel rooms, on trains, and backstage. Although he later deplored the nightmare insecurity of his early years and blamed his father for the difficult, rough-and-tumble life the family led?a life that resulted in his mother's drug addiction?O'Neill had the theatre in his blood. He was also, as a child, steeped in the peasant Irish Catholicism of his father and the more genteel, mystical piety of his mother, two influences, often in dramatic conflict, which account for the high sense of drama and the struggle with God and religion that distinguish O'Neill's plays.